The all in one toolkit to keep productive during pandemic
Araneo is an application platform that helps you have a corporate web equipped with applications that support your business
Central Apps
It is the main application where visitors meet their needs and also where tenants display their products and services.
Service Catalog

A place where you can display the services you provide so that visitors can reach you more easily.

Direct Link

We provide direct access to your service to your company website or services

Free

As a form of our dedication to the country, we made this platform free during the pandemic to help anyone who wants to rise.

Own Database

The advantage of this platform is that each tenant will have its own database without mixing with other tenants so that data security and performance are maintained.

Own Domain

Each tenant who registers will automatically have their own subdomain like https://abc.araneo.app, and if you already own the domain itself, you can guide it later.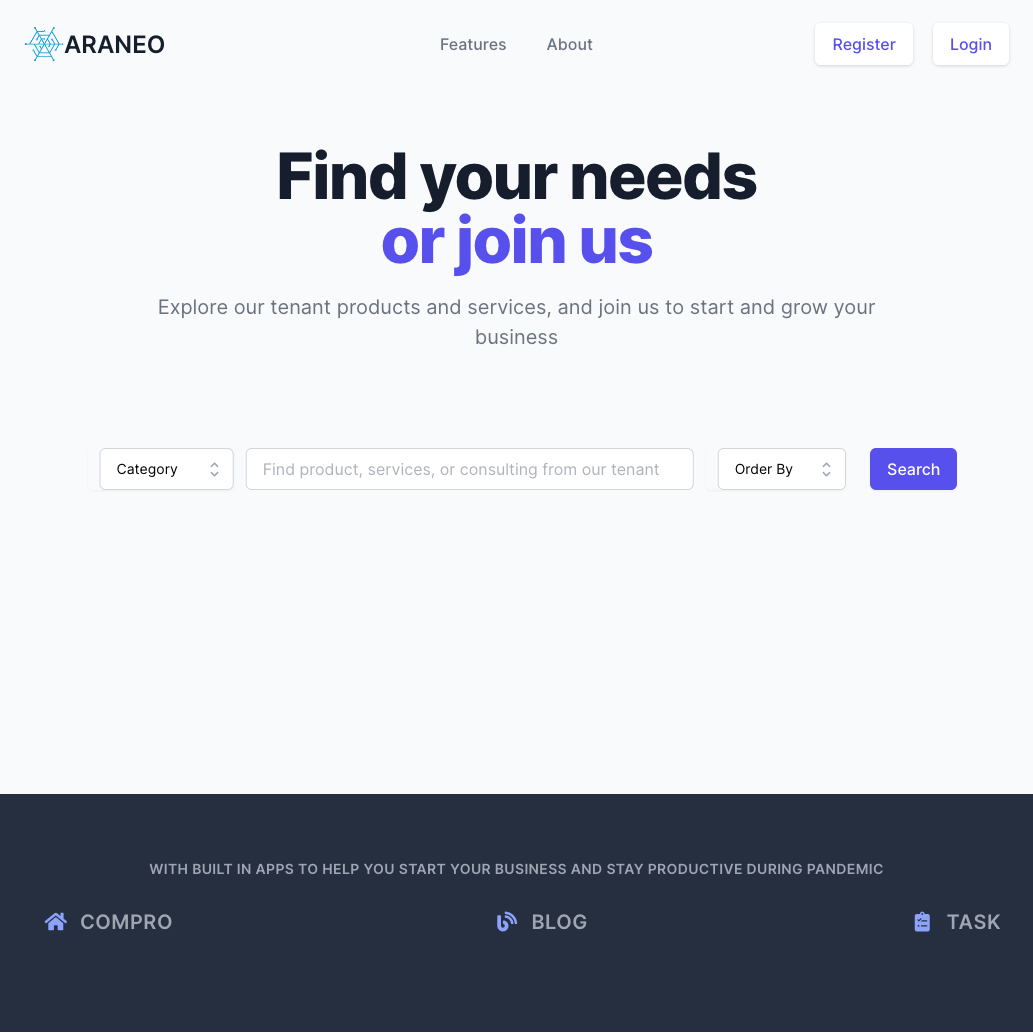 Tenant Apps
Semua tenant akan mendapat banyak aplikasi yang cukup powerfull untuk membantu dalam usaha, dan kami terus mengembangkan aplikasi-aplikasi di dalamnya.
Company Profile

All tenants will get many applications that are strong enough to help in the business, and we continue to develop applications in them.

Blog

To keep clients or visitors updated, your website is equipped with a blog, telling you about all things related to your business.

Product

The main purpose of a business is to sell products or services, you will be provided with data services for your products or services, starting with pictures, prices, payment methods, and so on, and displaying them on Araneo Central Apps.

User Invitation

You can start inviting your employees or your team to join your tenant application, managing roles, and applications that can be accessed by your employees.

Accounting

We equip you with a very sophisticated accounting application, you can journal all your transactions and get financial reports at a glance. And you can even use the balance sheet and income statement for your tax reporting.